Strategy
Strategy is a discipline which helps firms determine what to make and do, why to do it and how to innovate contextually, both immediately and over the long term.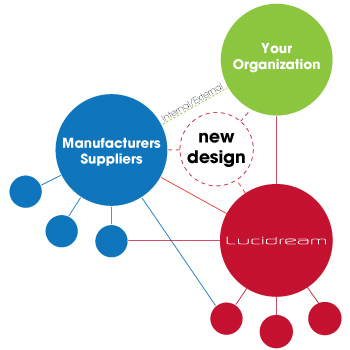 At Lucidream, we create complete strategy; Design, Business, Innovation, Manufacturing, Process, Development, Marketing, Sourcing, Workforce, Investment and environmental strategy based on each project investment and its unique advantage. We love working with other teams to generate solutions and user experiences, we hope work to add value on levels.
A well-defined strategy helps streamline and reduce product development costs and reduces the cost of bringing a product to market. Start-ups and new businesses are flexible to experiment with new methods, which can lead to creation of fast growing companies and business. We develop business strategies that take into account innovation, intellectual property and product development to create a plan that can lead to scalable production.
When design strategy is implemented correctly and consistently throughout the business touchpoints, the results awaken the senses, speaking loud and clear, in natural resonance, in a consistent language that reinforces the brand message. You can compound the overall value to all the stakeholders of the Empathy Hierarchy Model.
The importance of design and its strategy must be a top-down process, and a company's unique corporate design language and culture need to have executive buy-in. The strategy must be developed, documented, standardized, translated, validated, updated, managed, nurtured and protected. This role requires a person with a broad breadth of experience in a variety of design disciplines To draw a parallel from the software world, a "Full-Stack Developer" develops software solutions for different platforms and a "Full-Stack Designer" develops solutions for all your business needs, corporate design culture, design language, products, services, and all its physical and digital touchpoints. These design leaders are your business's interface to senses.