Lucidream Design & Aarhus University
London, 2012 – Lucidream Design is proud to announce their assistance to students from Aarhus University, School of Business and Social Sciences who have won the prestigious final in Financial Times MBA Challenge 2012.
Read the Full Post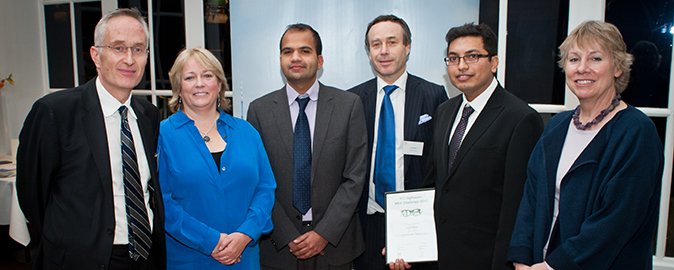 A group of students from Aarhus University, School of Business and Social Sciences have won the final in Financial Times MBA Challenge 2012 with their idea to change the mindset of people in northeast India to wearring glasses through campaigns that use games, loyalty schemes and versatile glasses.
Team leader for the RiteSight team Rajiv Vaid Basaiawmoit, MBA from Aarhus University, is both happy and humble: 
– We are very happy to be joint winners of this noble challenge. To be a winner is of course always a very special feeling – but the icing on the cake here is not that we are winners but that our ideas and proposed solutions will be used in some form or another to bring about positive impact in the world we live & share in.
Two teams were announced winners, the other was a team called the Glass Strangers. In the final, the team from Aarhus battled against five other teams from all over the world about who could come up with the best business plan for marketing glasses for children and teenagers in developing countries. The six finalists were chosen among hundreds of MBA teams.
Poor eyesight stops progress
For school children with poor eyesight, the outcome is often a poor school performance and frustrating school years. Rajiv Vaid Basaiawmoit explains the problem:
– The importance of good eyesight is an often overlooked problem in light of bigger problems out there such as social inequality, poverty and lack of access to education. However, if one does not have access to good eyesight – how can he/she have access to education? How can they fight their way out of poverty? Thus, basic access to quality eyecare is a necessity in the world that we live in and more so it is important to overcome barriers – like the social stigmatization of glasses in the developing world – so that they can no longer be held back to the progress they deserve.
Even though the problem could often be easily solved by a pair of glasses, the children are not given glasses because it is not socially acceptable. Ultimately, it makes more young people drop out of school because they cannot complete it without having vision correction surgery, but on the other hand don't wish to wear glasses either.
Board and computer games to pave the way
In their efforts to change attitudes to glasses among Indians, the team from Aarhus has decided to focus on a special computer game where all participants must wear glasses.
– India has a caste system … The only time people don't think about their strata is when they are playing games. A game is something that brings everyone together – creating a level playing field that breaks boundaries, says Rajiv Vaid Basaiawmoit.
A board version of the game will be developed for schools with no access to computers. The goal is that the special glasses which you have to wear to play the game will help increase the players' empathy with spectacle wearers.
In addition to the special games, the team will also introduce a wide range of designer glasses to help challenge the taboo of wearing glasses. To this end, the award-winning Canadian designer Ramak Radmard has lent the team a hand. And, finally, designs should be made available with plain glass so people with good eyesight can wear them as fashion items or for solidarity, like friendship bracelets.
Team RiteSight
The group from Aarhus, consisting of students from the US, Europe and Asia, calls themselves RiteSight. To start with, they have decided to focus their business plan on north-east India.
Five members of the seven-strong team are current or former students at Aarhus University:
Dev Bhargava, Sustainable Full Time MBA alumnus, Aarhus University, Business and Social Science, Denmark
Kathleen Wagner, MSc Innovation Management, Aarhus University, Denmark
Rajiv Vaid Basaiawmoit, Sustainable Full Time MBA alumnus, Aarhus University, Business and Social Science, Denmark
Enoch Yeboah Agyepong, Sustainable Full Time MBA alumnus, Aarhus University, Business and Social Science, Denmark
Anders Laursen, Sustainable Full Time MBA, Aarhus University, Business and Social Science, Denmark
Aaron Basaiawmoit, Young India Fellowship Programme, an IFRE Initiative in collaboration with UPenn, India
Ishanie Niyogi, Master of City and Regional Planning, Rutgers State University of New Jersey, USA
Further comments:
Rajiv Basaiawmoit, Sustainability MBA Alumnus
Aarhus University, Business and Social Sciences
Tel.: +45 42 15 48 10
Skype-iD: r.v.bmoit
Email: rvbmoit@gmail.com
School of Business and Social Sciences, Awards
Lucidream Design & Aarhus University
On behalf of Lucidream Design,
Founder, Creative Director & Chief Designer
Ramak Radmard
Source: Aarhus University, School of Business and Social Sciences