Milan, Italy, August 17, 2008 – Designed by Ramak Radmard the interfaces eyewear system is designed with user comfort and individuality in mind. Its profile is in keeping with the human form, providing a perfectly ergonomic eyewear. The aesthetic characteristics of the frame make a unique and clean statement of elegance and sophistication.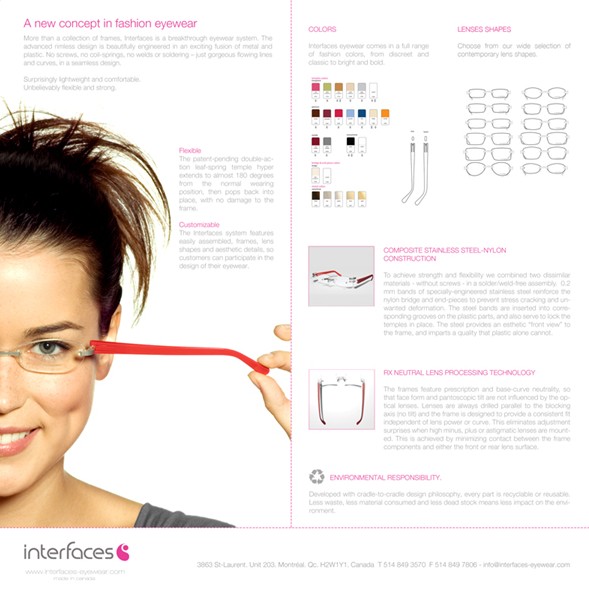 To achieve strength and flexibility we combined two dissimilar materials – without screws – in a solder/weld-free assembly. Bands of specially-engineered stainless steel reinforce the nylon ridge and end-pieces to prevent stress cracking and unwanted deformation. The steel bands are inserted into corresponding grooves on the plastic parts, and also serve to lock the temples in place. The steel provides an aesthetic "front view" to the frame, and imparts a quality that plastic alone cannot.
The coil-free spring temple operates when the temples are extended beyond the open position, secondary action engages when the temples are hyper extended beyond 45 degrees from the open position. The leaf spring "pops" into a release mode ensuring the frame is not subjected to excessive forces that can damage it. Simply rotating the temples back to the open position resets the normal operating mode.
The frames feature prescription and base-curve neutrality, so that the optical lenses do not influence face form and pantoscopic tilt . Lenses are always drilled parallel to the blocking axis (no tilt) and the frame is designed to provide a consistent fit independent of lens power or curve. This eliminates adjustment surprises when high minus, plus or astigmatic lenses are mounted. This is achieved by minimizing contact between the frame components and either the front or rear lens surface.
View Interfaces Glasses
On behalf of Lucidream,
Founder, Creative Director & Chief Designer
Ramak Radmard
Source: Lucidream