Lucidream eXo-Skeleton
Premium iPhone Case
Designed by Ramak Radmard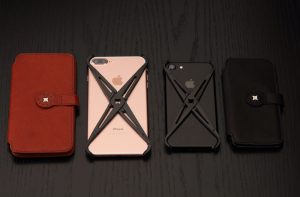 Now available for Apple iPhone
The eXo is now available for the following Apple iPhone products:
iPhone 6
iPhone 6s
iPhone 7
iPhone 6 Plus
iPhone 6s Plus
iPhone 7 Plus
A strong eXo-skeleton and a patented spring-loaded impact absorption system, providing luxurious security that protects the vulnerable areas of the mobile device while leaving it virtually bare.
It is a finely tuned instrument, made from forged stainless steel, precision-manufactured and heat treated to aerospace standards. It is hand finished and polished, and the internal surfaces are flocked.
Additionally, eXo is equipped with a mechanical quick-connect system, providing elegant utility for devices to attach onto virtually anything. A number of functional accessories make use of this quick-connect system: the Wallet, Clip, Armband, and two types of Universal Mounts.
The eXo Collection is now in stock and includes a variety of accessories:
Our slim design Wallet is made with vegetable-tanned leather from Tuscany and a high-tech special lining that protects your cards from unauthorized RFID access.
Our stainless steel Clip can be used as a money clip, keeping your very basics organized while allowing you to keep your cards, money and your iPhone together. It is also a great way to secure your iPhone to your belt or purse.
A precision machined Universal Mount allows you to secure your iPhone onto virtually anything. With this mount, your Lucidream eXo iPhone Case can connect to flat surfaces, tubes, and cameras via a standard 1/4″ connecter.
Our Armband is perfect for people on the move, as it also makes use of the integrated, minimalist eXo connector.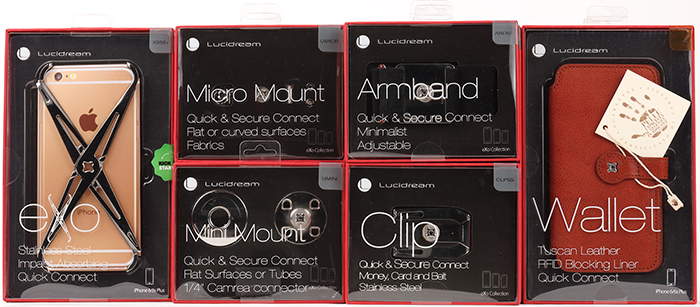 eXo in stock and shipping
Thank you
As 2016 nears its end, we want to send a big thanks to all the backers who supported our Kickstarter campaigns, as well as our pre-order clients who waited patiently for their Lucidream eXo Premium iPhone case! It has been quite the journey now that eXo is in the hands of users around the world (50 countries, to be exact). We are happy to report that we shipped all pre-orders by mid-October.
What customers are saying
With eXo now gracing phones around the world, we've received some great feedback from users who wanted to share their excitement with us! Here are just a few examples:
"I have owned the majority of iPhone models over the last 9 years and have also owned lots of cases. I always search for something special to complement the Apple design. I must say that the eXo is by far the most beautiful and unique design I have ever owned."
Stewart – Marche, Italy
"I have never used a case on any of my phones EVER, but I saw this and loved it. […] The weight is amazing; it allows me to grip the phone better, and rather than cover up the iPhone design it really adds to the look. Perfect 10/10 for the eXo!"
Adam – Overton Basingstoke, United Kingdom
"Craftsmanship that is missing in our modern world. I feel like a 10 year old on Christmas morning. Really – these two items have put smile on my face."
Michael Stahl – United States
"I just wanted to thank-you so much for all of your assistance and individual customer care in dealing with my order […] I look forward to seeing and hopefully owning more Lucidream works of art in the future."
Kevin Schnavel – Dollard-des-Ormeaux, Canada
New eXos: Breaking in and installing
This mechanical device is a highly engineered, forged and machined stainless steel product that protects and connects your smartphone to the world you live in. Like any mechanical device, you may need to break-in your eXo.
Since your eXo is new, it will be stiff; the springs and connections need some working in to get the system operating smoothly.
This preliminary breaking-in will make it easier to open the device as per step #2 in the instruction manual: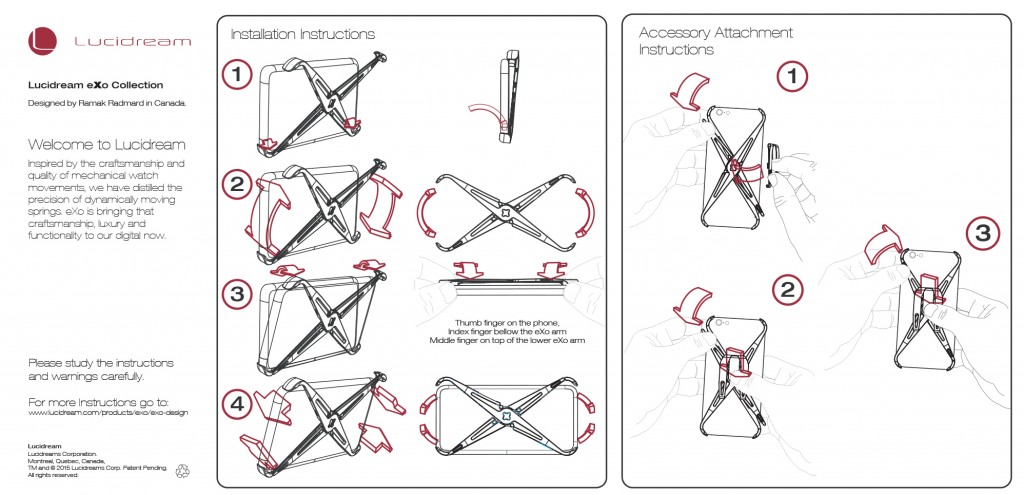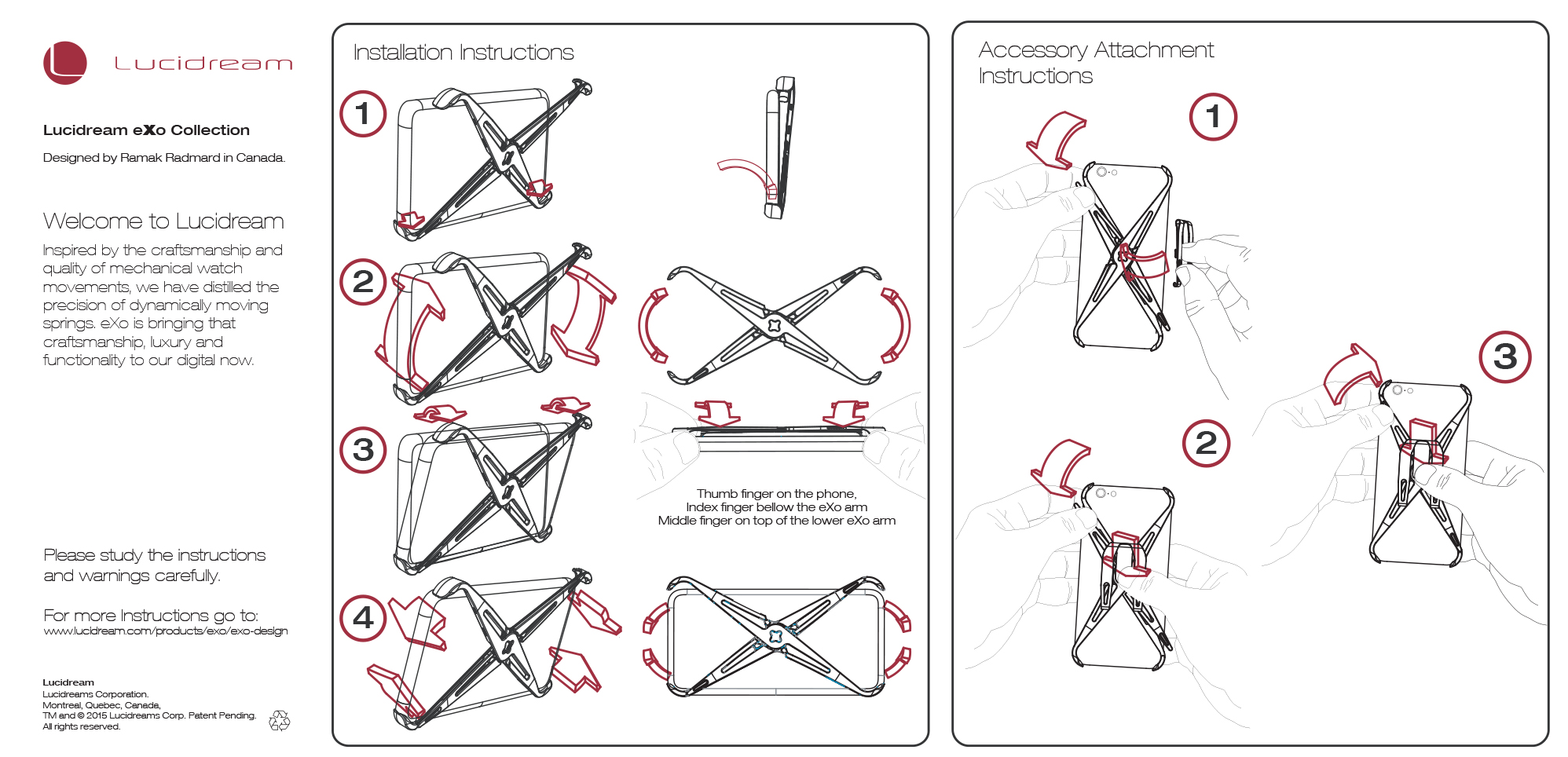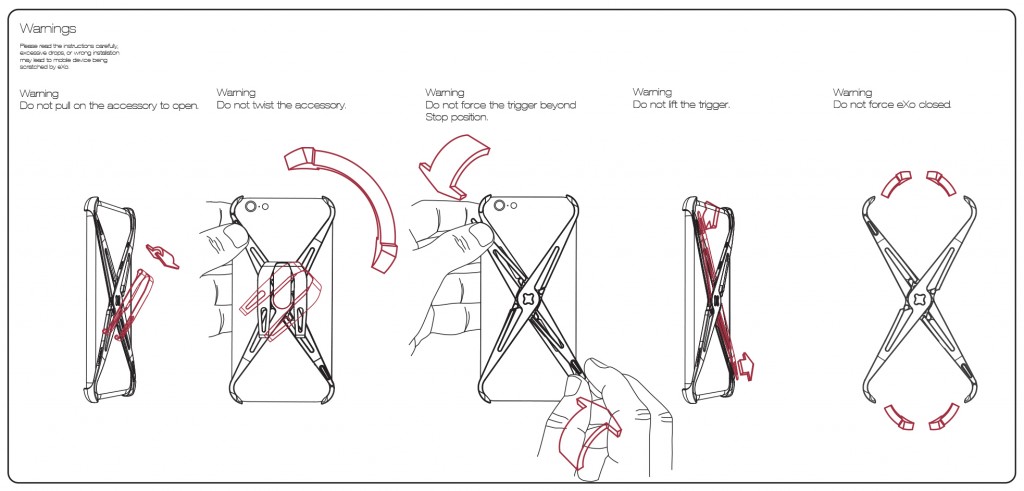 Before installing your device, lay the eXo on a flat surface and stretch the springs as shown in the picture below: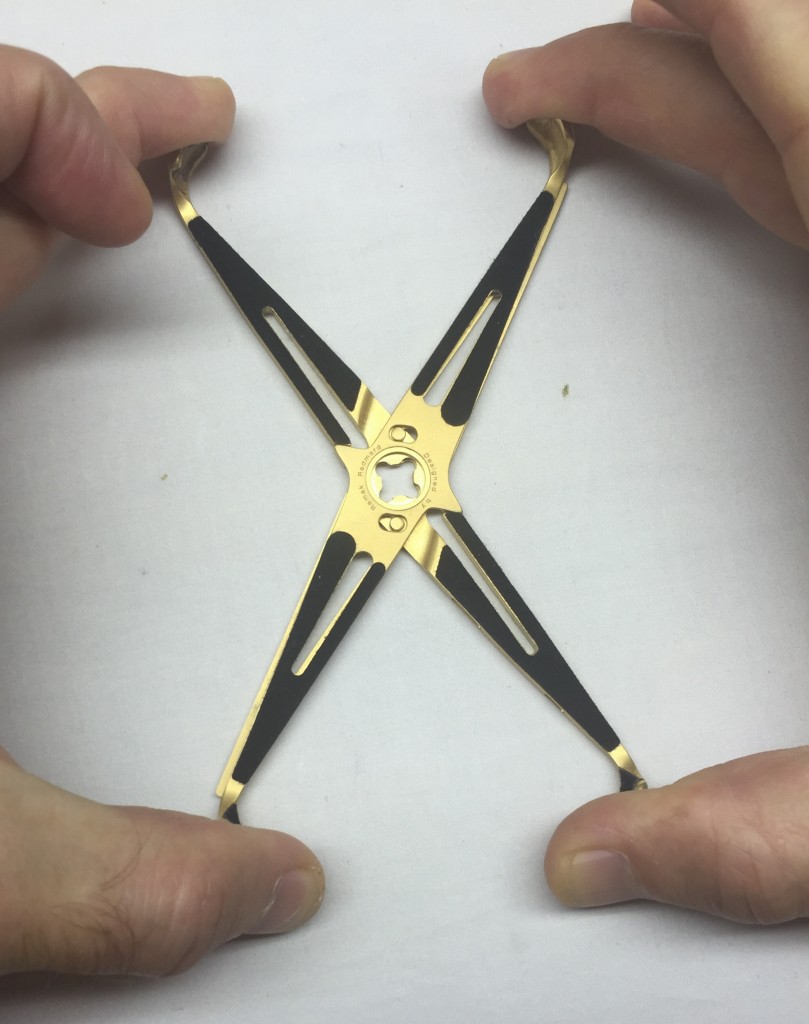 For more information on how to install or remove your eXo, we recommend watching this instructional video.
We hope you enjoy your eXo for years to come!