Boston, Massachusetts , USA, December 01 2009 – Creative directions and Product design by Ramak Radmard , a new concept in eyewear:
Ramak Radmard has received the IDSA IDEA Award, The award was presented at the Wentworth Institute of Technology on December 01 2009 by the Industrial Designers Society of America. The award show brings together industry and academic participants from across the world to review the latest developments in industrial design, product design and product development and brings together industry participants to honor the key players in the design industry.
Lucidream has continually demarked itself by the quality of its innovative product design solutions. First launched in 1999, our services have significantly contributed to improving the way our clients do business. "We are very pleased that the eyewear system has been recognized as a best of its breed," said Ramak Radmard, Creative Director and Chief Designer.
interfaces eyewear system, no screws, no coil springs, no welds, no soldering—just a seamless design of flowing lines and curves. Customers can design their own eyewear by choosing from a variety of component sizes and colors, the finish of the metal, and the shape and size of the lenses.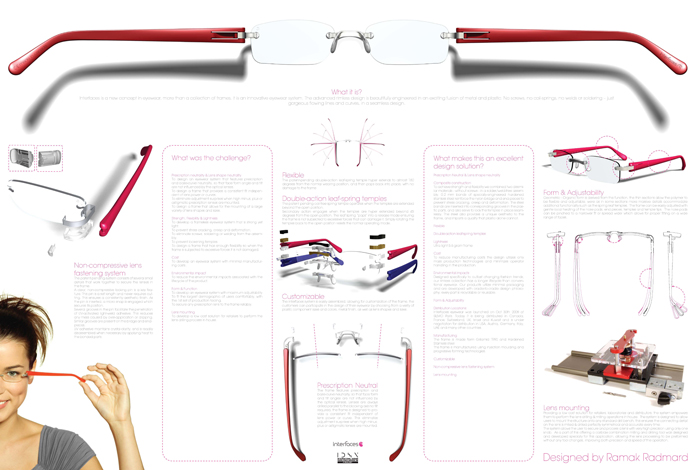 On behalf of Lucidream,
Founder, Creative Director & Chief Designer
Ramak Radmard
Source: IDEA Awards 2009